CHALLENGER 150 PROGRAMME CELEBRATES PUBLICATION OF ITS FIRST REGIONAL REVIEW COVERING THE CENTRAL & SOUTH ATLANTIC Challenger 150
The Challenger 150 Programme is a global cooperative with a mission to map life in our deep ocean & deliver the science to support sustainable development. The programme comprises 12 Regional Working Groups that bring together researchers active in specific ocean basins to coordinate research, prioritize areas for study, and build capacity. The review is an output from the programme's Central and South Atlantic Regional Scientific Research Working Group co-chaired by Dr Kirsty McQuaid (South Africa) and Dr Maila Guilhon (Brazil).
Share: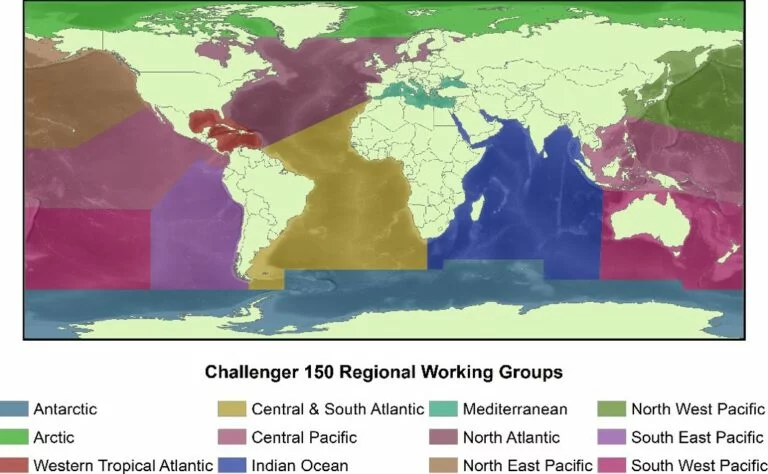 6 September 2023
The Challenger 150 Programme is pleased to announce publication of its first regional review of the state of knowledge of the deep-sea of the Central and South Atlantic. The published Review of the Central and South Atlantic Shelf and Deep-Sea Benthos: Science, Policy, and Management represents the most comprehensive summary to date of some of the world's least explored ocean space.
The review, led by Dr Amelia Bridges from the University of Plymouth, brought together 45 co-authors from 18 nations and culminated in 6 community consensus recommendations for those considering research &/or management in the region. Combining qualitative and quantitative analyses, the review identified particularly under-sampled ocean areas including the Gulf of Guinea, the northeastern margin of South America, and all large ocean states and territories.
The review is the first in a sequence of planned reviews by each of the 12 Regional Working Groups. The aim of these reviews is to provide critical baseline knowledge for the region, identify knowledge gaps, and serve as a valuable platform from which to plan future research. (Read more)